The Silver Dragon had taken the Lance... The Lance that Takhisis had given Highlord Kain Toloak to help him in combat against the dragon.
After the battle Kain didn't remember much. He stood on the road outside the city of Portsmith. He was angry with himself for he had failed his Queen. Several men approached Kain. Knights they appeared to be though he wouldn't call them that. They asked him to come quietly as they were placing him under arrest. Having no part of it, Kain drew his sword. One against six. He was sad that it wasn't a fair fight.
In a matter of moment six Knights were laying along the road, dead.
As he prepared to leave a Cleric of Mishakal came along. She was timid in the presence of the Highlord. Kain saw his opportunity. When the Cleric began to examine the bodies he struck , knocking her out. A fine prize she would make for his Queen.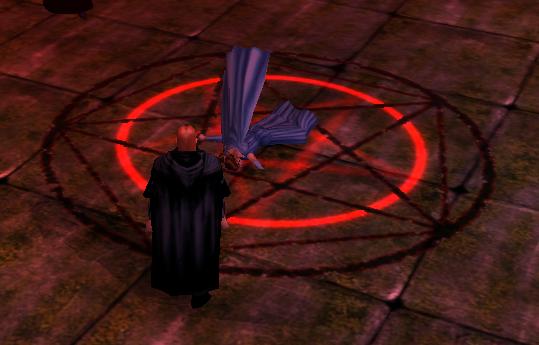 First of all though, he had other plans for her. He would offer her life to the Temple if they would return the Lance and give him a Vial of Silver Dragon Blood.
If they refused he would return her body.... without its head.